You may have caught the recent news that our new talent assessment platform, Thomas Perform, is now available to customers in Asia Pacific and Europe. This is an exciting time for us at Thomas, as we enable organisations internationally with instantly actionable insights into their people, making it easier for them to hire, equip and develop the right talent for their teams. 
As a recent blog from Gartner revealed, leader and manager effectiveness is one of the top priorities for HR leaders in 2023. Modern leaders must embrace human-centric leadership styles, be authentic, show empathy and enable flexibility to meet the evolving needs of their team members. The Thomas platform helps such leaders to understand the behavioural and personality traits of each of the individuals that make up their teams, so that they can adapt and personalise their approach to each. Equipping individuals at all levels across a team with similar insight has been proven to result in increased employee engagement, reduced staff attrition, increased productivity and, ultimately, higher customer satisfaction levels.
We'll be continuing to roll out the new platform across more regions in the coming months, as we aim to deliver against our vision of unlocking the potential of every individual, team and organisation in the world by making the complex nature of human behaviour, aptitude and personality easier for everyone to understand. 
Ahead of that, indulge me as I explain the core three core principles underpinning our exciting new platform:
Initially launched in the UK the platform's highly validated insights, built on British Psychological Society registered science, helped our customers enhance employee engagement and performance levels whilst also adapting to new ways of working that accelerated through the global pandemic. As the Covid crises subsided, the platform proved its value once again in tapping latent workforce potential whilst protecting employee wellbeing as organisation structures continued to evolve at pace.
Helping future proof your organisation for new ways of working
The Thomas platform provides organisations of any size with deep insight into their greatest asset: their people's behaviour, personality and aptitude. These insights are proven to be more predictive of success than hard skills or prior experience, and harnessing them has helped organisations transform performance, overcome bias and make smarter people decisions. Our customers benefit from highly engaged, productive teams after using these insights across their recruitment, people management and development processes. 

Employee burnout and high stress levels have become commonplace in recent years, and with global economic uncertainty, conflict around the globe and hybrid working, wellbeing continues to be a top concern for businesses everywhere. The Thomas platform offers insights into individuals' emotional resilience and approach to conflict and ambiguity, equipping companies to manage uncertainty and protect the wellbeing of their people.
Insight into individuals' styles of management, communication and leadership potential can help companies identify their next generation of leaders. It's well known that the best individual in a role doesn't necessarily make the best future manager, so informing promotion decisions with psychological insight into management and leadership potential supports leader and manager effectiveness whilst reducing the impact of unconscious bias. 
Unlocking performance throughout the employee lifecycle
In recruitment, the new platform offers a simple 5-star rating to allow hiring managers to understand the alignment between a candidates' behaviour, personality and aptitude and the specific requirements of the role, minimising the bias that overreliance  on CVs and LinkedIn profiles creates. Together with individually tailored interview guides, this has helped businesses find the right candidates for their businesses and teams faster than ever before. The individually tailored 'How to Onboard' guidance has helped these companies bring new recruits to peak productivity faster.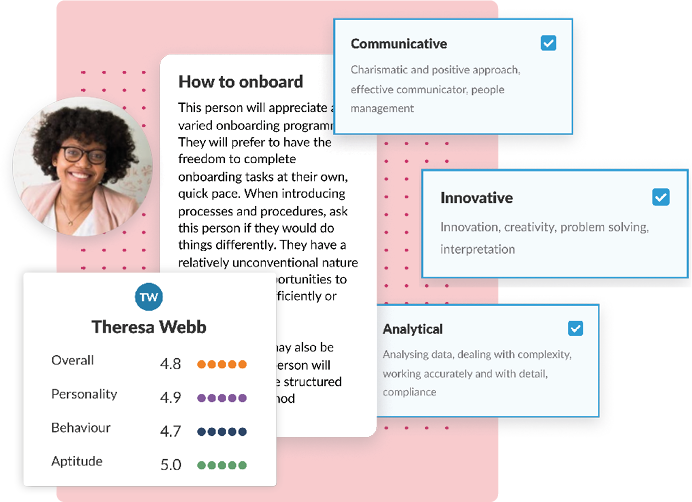 Employee engagement has been shown to improve productivity and profitability, but many organisations still have little understanding of what motivates their staff. The 'How to Manage' and 'How to Motivate' content helps line managers communicate more effectively, tapping into employees' latent potential and inherent motivation to improve results. Insights into how individuals cope in remote or hybrid working environments help businesses keep team members engaged and productive.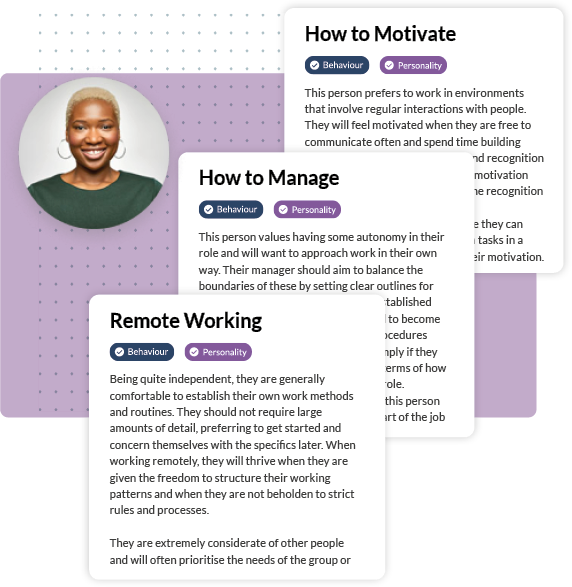 The new Thomas platform at work
Don't just take my word for it! I recently spoke to three different businesses that are outperforming thanks to the insights that Thomas gives them: a UK-based career advisory firm, a major UK university, and an international logistics company with almost fifty thousand employees. Here's what they said:
Insightful, easy to administer and beyond the competition
Crucial to one top career consultancy's to adopt Thomas Perform was the accuracy and rigour of the science underpinning the solution. The firm's Cofounder and Managing Partner says: "The platform is phenomenal. The way you can access everything about the individual through Thomas is superb. Thomas gives us an additional level of professionalism to how we support our people. We assess personality, behaviour and aptitude, with content that means you don't need to hire a certified coach to be able to translate. It is incredibly accurate, easy to administer, and is above and beyond competitors in the market."
Intuitive, easily adopted and a game-changer for development
One of the UK's leading universities adopted Perform because the organisation is "absolutely committed to development", not only of its students, but of its teaching staff. "We wanted to make our new leadership development programme as engaging as possible so it involves action-learning alongside psychometrics",  explains their Talent and Organisational Development Consultant. "Using the reports has been very intuitive. Thomas is adding huge value as part of our recruitment process. In a business such as ours with a large operational headcount, to have data to predict who is right for a role is incredibly valuable."
Cost effective, highly accurate, and beneficial across the employee lifecycle
A multinational logistics corporation with almost fifty thousand employees needed to optimise its recruitment process across its global operations. This was a considerable challenge but one that would create considerable value when addressed. "From the moment we engaged with Thomas, it felt right for us", explained the company's Talent Acquisition Manager. "The new platform is incredibly easy to use. The user interface is intuitive, clean and accessible, and that's reflected in the insights as well. The content is visual yet detailed, and easy to digest without needing to be a psychologist. This has really set Thomas apart from alternative solutions."
Get started with Thomas today!
I'm super-delighted to see our customers able to adopt the Thomas talent assessment platform now across Europe and the Asia Pacific region, with availability in more countries coming soon. If you want to know more about the platform, please connect with me directly via [email protected], get in touch via our website, or download the factsheet to learn more.