Case Study
ORS: Optimising communication in the remote work environment

The Challenge
With a view to optimising communication in the remote work environment, ORS introduced a leadership development programme. "We identified that the team leads were the ones with their fingers on the pulse when it comes to what's happening on the ground", explains Associate Director Luke Martin. The pandemic naturally had a destabilising effect on teams worldwide, including the environmental team at ORS, which Luke jointly heads up. He continues, "One of our main goals for the year was to create a stable, happy team. To support this, we launched a personal development programme for the entire team consisting of a series of exercises centred around personal and professional development."
"We wanted to drive our people's awareness of their teammates to increase the agility of our workforce", Rachel adds. It was ORS' external leadership consultant who initially recommended psychometric assessments to enrich the programme. "We looked at several different models, including Myers Briggs, Belbin, Patrick Lencioni, but Thomas' Behaviour assessment using the DISC model was the one that resonated most. It really kicked off the whole development initiative", says Luke. Rachel concurs, "After seeing the feedback and results, continuing to use Thomas was a no-brainer".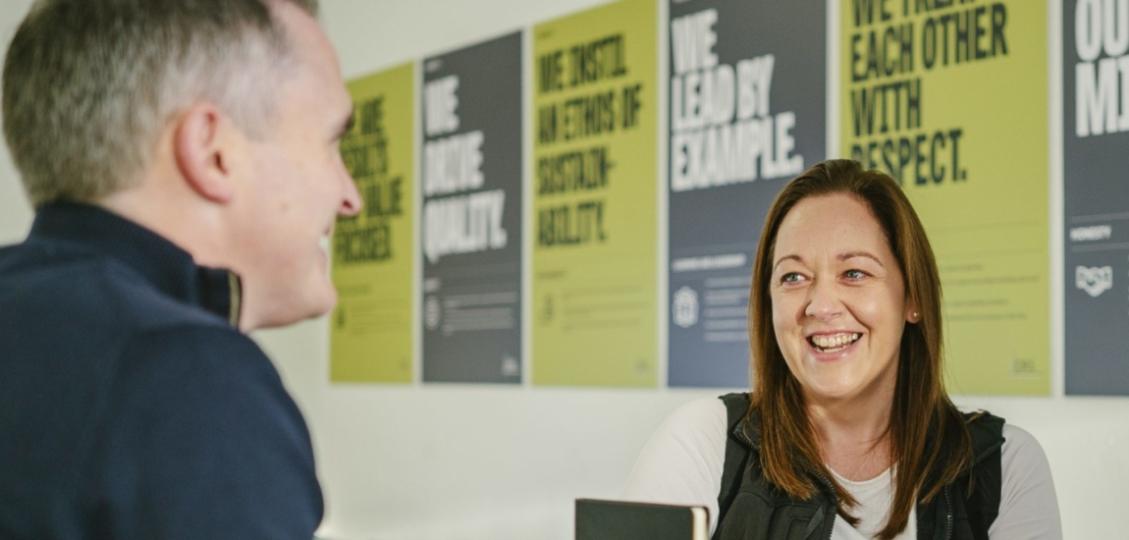 The Solution
ORS differentiates itself from competitors in part through its strong focus on personal and professional development. Luke elaborates, "As a company, we are focused on professional development. If you join ORS, you're going to progress, either up the ranks or by becoming a more well-rounded consultant." The focus on professional development benefits business too. Luke continues, "As a consultancy, ORS is less about hard sales, and more about creating value for our customers. We are trying to progress projects forward and deliver a service, which is where we see added value in Thomas' DISC assessments".
The success of Luke's pilot scheme became a new benchmark for the company's culture. He reflects, "The reports that we got back from Thomas were so comprehensive. People were blown away by their accuracy. They couldn't believe that answering thirty multiple-choice questions could produce this ten-page report. Our Board of Directors were so impressed with the scheme that they rolled it out across every team in the company."
We have no doubt that working with Thomas International has contributed to us achieving the Best Place to Work recognition by providing insights into employee strengths and areas of improvement, along with helping us tailor our development programmes for a more engaged workforce.
Primarily, ORS uses psychometrics as a tool for developing its people's self-awareness. Luke: "The profiles help our people learn about themselves and their behavioural preferences." ORS builds on this with team workshops to "discuss our different profiles, which helps colleagues understand each other. That understanding makes communication more seamless", says Luke. "As a team lead, I want to do whatever I can to ensure my team performs really well, and applying DISC has been a game-changer in that respect."
Rachel agrees, "The real benefit that we have seen from the Thomas assessments is how they have improved communication and self-awareness within the team. The team leads see the value in it for establishing the right fit for the team in recruitment as well as development." The real value of DISC language for the team at ORS though is in building client relationships. "Communication breakdowns on projects are costly. Using DISC, you can get a quick read of the situation and help you communicate in a way that resonates with the client", says Luke, "DISC informs the way my team communicate with our clients. That's where we want to get to company-wide."
The Results
ORS' leadership development programme, facilitated by behavioural insight from the Thomas assessments, has been transformative for the business. ORS' cultural maturity has yielded multiple commercial benefits and been a catalyst of the company's growth. Initially, it was a hard sell to motivate the team leads to devote multiple hours a month to something non-task related. Luke explains, "You want everyone in a company working as hard as possible, but there are major morale issues with ignoring employee engagement. By giving employees something 'outside the box' to work on, you get ten times your investment back in their appreciation. It really is a motivator." With just 27% of the Irish workforce (Robert Walters) and 9% of the overall UK workforce (Gallup) engaged at work, that's no small achievement.
In addition to its commercial and motivational benefits, the company's pioneering approach to developing and engaging its workforce has gained external recognition, as Rachel reflects: "Our Best Place to Work recognition is a continuous journey of improvement. As we proudly secured a spot in the top ten companies to work for in the 2023 Best Place to Work in Ireland rankings, our year-on-year progress serves as a testament to our unwavering commitment towards creating a workplace culture that fosters growth, innovation and prioritises employee wellbeing. Our journey towards excellence continues, and we remain dedicated to raising the bar higher with each passing year. We have no doubt that working with Thomas International has contributed to us achieving the Best Place to Work recognition by providing insights into employee strengths and areas of improvement, along with helping us tailor our development programmes for a more engaged workforce."
Psychometrics have also increased the visibility of behavioural competencies within the business, which are proven to correlate more strongly with professional success than prior experience, even in technical roles (Furnham). "Team leads are often focused on hiring candidates who are technically strong, but those individuals may not always compliment the team dynamics", says Rachel. "DISC provides the team leads with greater self-awareness and insight into the profiles they have within the team, which helps to determine the degree of alignment between the candidate and the role. That's a tangible value-add, because there is a huge cost to hiring someone who you then have to exit within a few months and find someone else. That has been a big saving for us. The other thing that DISC has opened our eyes to is the fact that everyone doesn't have to be strong in every area. We now hire for skills and behaviours that complement the team, and allocate tasks based on individuals' natural strengths. This is 100% contributing to our growth as a business."
Unleash the power of your people with Thomas