Thomas components
Supporting 

Professional Services
Professional services firms are in a constant state of evolution as they adapt to changing customer needs. Employee engagement is a particular challenge in this sector, so ensuring that young talent has a clear progression route is key to retaining that talent long term.
Retain and develop your workforce
Reputation is everything in the world of professional services, and as your staff are the visible face of your company, you need to hire the best, protect them from burnout, and keep engagement levels high.
We've put in robust processes with regards to the aptitude, behaviour and personality assessments at the recruitment phase so we have a well-rounded view of a candidate.
Spot the potential to succeed
To provide the best service and keep your customers coming back to you, you need to hire staff who will not just succeed in their roles but will fit into your company and team culture. These attributes are not always obvious from a CV, so hiring the right candidate is a challenge.
How we can help
Build a job profile in the Thomas talent assessment platform based on the behavioural characteristics and personality traits of your top performers

Research shows that candidates with a high aptitude are more likely to succeed in a role – use the Thomas Aptitude assessment to find your future stars

Use simple star ratings to compare candidates and find those most likely to succeed  

 
Make your succession planning a success
In the grips of a skills shortage, it's more important than ever to be able to identify young talent and give them a transparent and clearly defined progression route to prevent them becoming disillusioned by the process or seeking new pastures.
How we can help
Find prospective leaders with our Workplace Personality assessment, which identifies those personality traits related to leadership potential

Build a development plan for your future leaders by understanding their behavioural and emotional preferences as well as their limitations

Our 360 degree feedback assessment helps your people understand their potential areas for development and strengths

 
What I like about Thomas is that it's simple and it's very quick. Particularly the PPA but all of [the assessments] really are quick to complete…We can use Thomas to help people understand where they are and how to develop their interpersonal skills.
Engage and retain your staff
We all want to be valued members of a winning team, but if your people are feeling stressed and rapidly approaching burnout, engagement levels and productivity will be low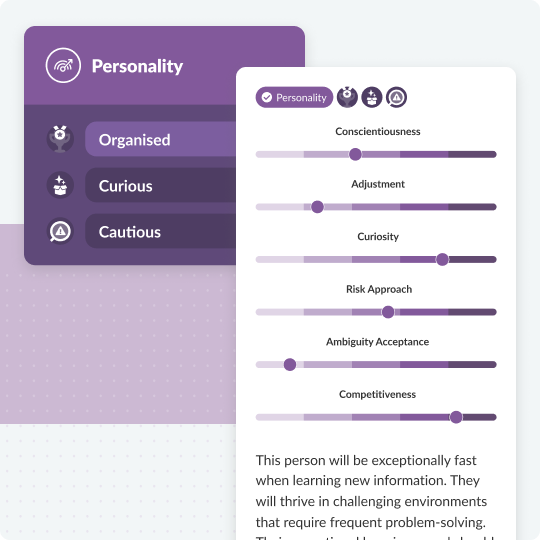 How we help
Use the Thomas Behaviour and Personality assessments to understand how to manage, motivate, and communicate with your staff

Gain insight into how well your people might cope with stress and pressure through the Thomas Personality assessment

The Thomas Emotional Intelligence assessment helps you to dive deeper into individuals' ability to manage stress
WHITEPAPER
Rebuilding with Resilient Teams
Whether you are reforming as a hybrid team, or building a new team, resilience is vital for the wellbeing of your people as well as the success of the team overall. Learn more about emotional resilience and how to support your team members.
Unleash the power of people with Thomas