Thomas components
Supporting Energy & Utilities
The changing geopolitical landscape, renewable energy sources and new technology are transforming the energy and utilities sector at pace. Find the best new talent to quickly progress up the career ladder. Put robust succession planning processes in place so that they are ready to take over from their predecessors.


Transform your talent acquisition and management
Finding the right candidates is a struggle for most businesses, but with the whole industry undergoing radical transformation, energy and utility companies feel this even more keenly. You need new skills and hiring methods to set your business up for success now and in the future.
"It's not just about selecting the right people, it's also about developing our people. We now run team profiling, ensuring better team fit; have eased the interview process by enabling managers to dig deeper in interviews thanks to the questions provided through the profile; and aided managers to have difficult conversations and/or address differences of opinion particularly with the use of the Emotional Intelligence assessment and 360."
Fill the skills gap
63% of energy and utilities CEOs say that skills availability is a potential threat to business growth. This puts the onus on HR professionals to identify and hire talent that can safeguard productivity.
How we can help
Select the traits of your ideal hire using our job profiling tool and objectively rank candidates against your pre-selected criteria

Use our targeted interview guide to help frame questions based on a candidate's strengths and weaknesses

The Thomas Aptitude assessment identifies individuals who can quickly learn the necessary skills for success
Put the success into succession planning
With older employees  continually being lost to retirement, energy and utilities companies must also develop  employees with the knowledge and skills to take on their predecessors' roles –and carry them forward in a rapidly changing landscape.
How we can help
Explore an individual's personality traits to identify potential leaders with our Workplace Personality assessment

Discover the behavioural and emotional preferences of an employee, and develop those required for leadership

Our 360 Degree Feedback Assessment helps employees understand their strengths and areas for development as suggested by their colleagues and customers

 
Within one year of using the assessments, turnover in Customer Operations was down by 12% and there continues to be improvements year on year. In fact, since introducing the new recruitment process, turnover has almost halved.
Reduce staff turnover
High staff turnover increases business costs. With staff turnover above average in energy and utilities companies, it is no wonder that four in five CEOs in the sector are planning to increase employee engagement.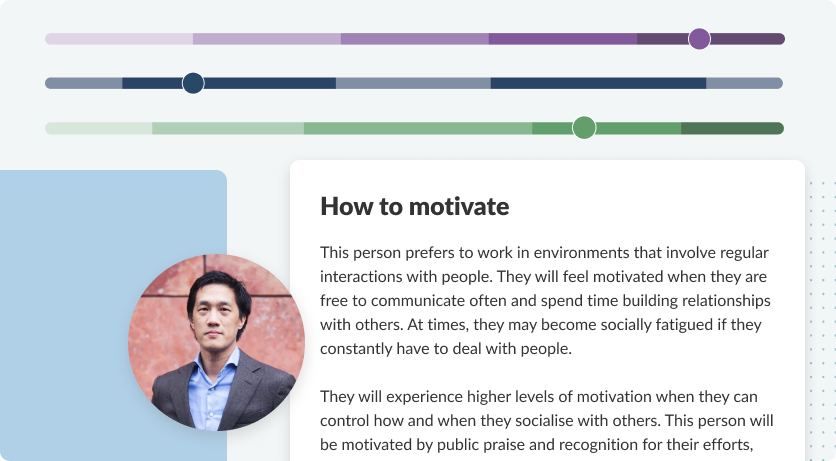 How we can help
Thomas Assessments support ongoing management and motivation, offering deep insights based on employee behaviour, aptitude, and personality

The Thomas Engage survey gauges staff morale and recommends necessary improvements

Tailor employee onboarding to fit the speed of learning and behavioural styles of your people

 
WHITEPAPER
Retention Guide
Retaining staff is more cost effective than replacing them. Our employee retention guide explains how you could reduce your staff turnover.
Unleash the power of your people with Thomas