Employee Engagement Assessments
Establish the levels of engagement within your organisation and identify strategies and initiatives to enhance employee wellbeing, motivation and productivity.
Assessment Information
Assessment type: Engagement Survey
Format: A blend of rating scales and free-text response options
Availability: 10 languages
Time to complete: 5-10 minutes
Training required: No training required
Validation:
Background & Theory
Thomas Engage (originally the Work Engagement Questionnaire) was developed by Mark Slaski at the University of Hertfordshire in 2009.
Slaski grounded his research and development in the psycho-social theory of workplace engagement – that engagement is a positive experience resulting from the relationships you have, the role you do and the rewards you get in the workplace.

Statistical factor analyses were conducted to identify the underlying seven areas of engagement being measured by the questionnaire; Voice, Togetherness, Challenge, Freedom, Clarity, Recognition and Growth.
---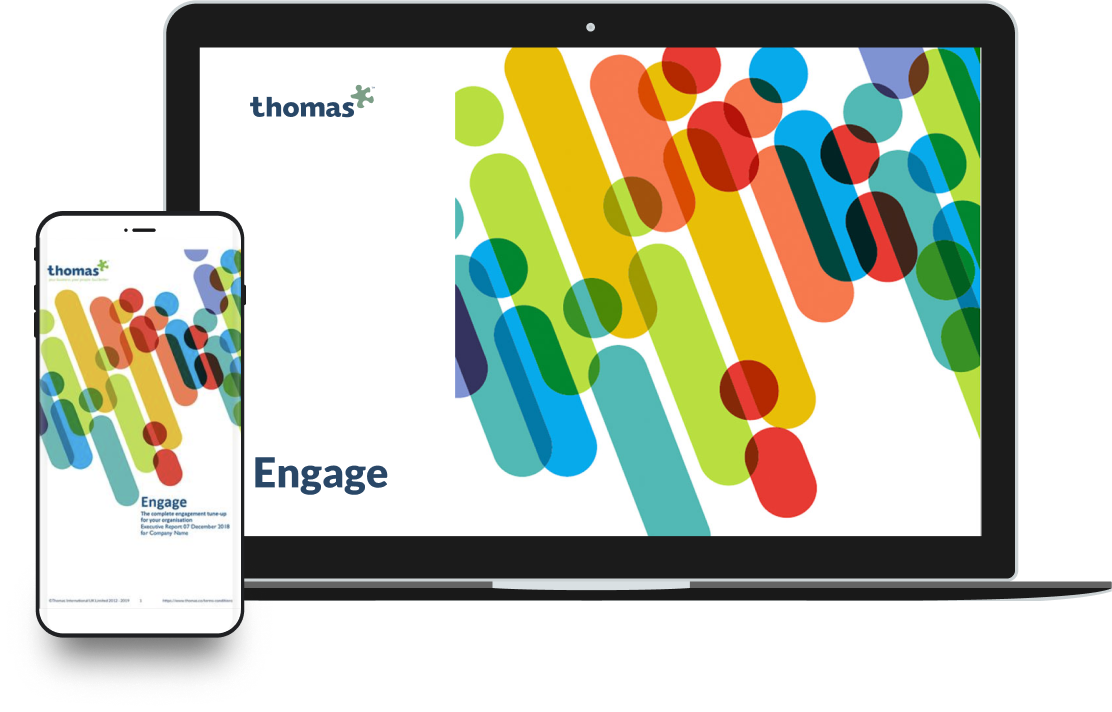 Format
The Thomas Engage questionnaire is formed of 28 statements. An individual must indicate their frequency of experience on a 1-7 Likert scale (1 being 'never' and 7 being 'always'). The 28 questions are followed by two pre-set questions with free-text responses. Individuals will be asked to confirm several demographic factors at the end of the questionnaire.
---
Reliability & Validity
Thomas Engage has an impressive internal consistency (Cronbach's alpha = .96) and very good construct validity. Structural equation modelling (SEM) suggested high construct validity of the final 7-factor model model, with each outcome variable able to explain a large amount of the variance in engagement.
---